What's the closest thing from owning a cool car? Downloading a simulator of that same car, of course! That's certainly the reasoning behind these popular car simulator apps. While some of them are legitimate, a huge chunk of these Android apps were found to be fraudulent. These apps serve no purpose at all. Worst case scenario: these apps will infect your smartphone with malware.
Car Simulator? More Like Malware Simulator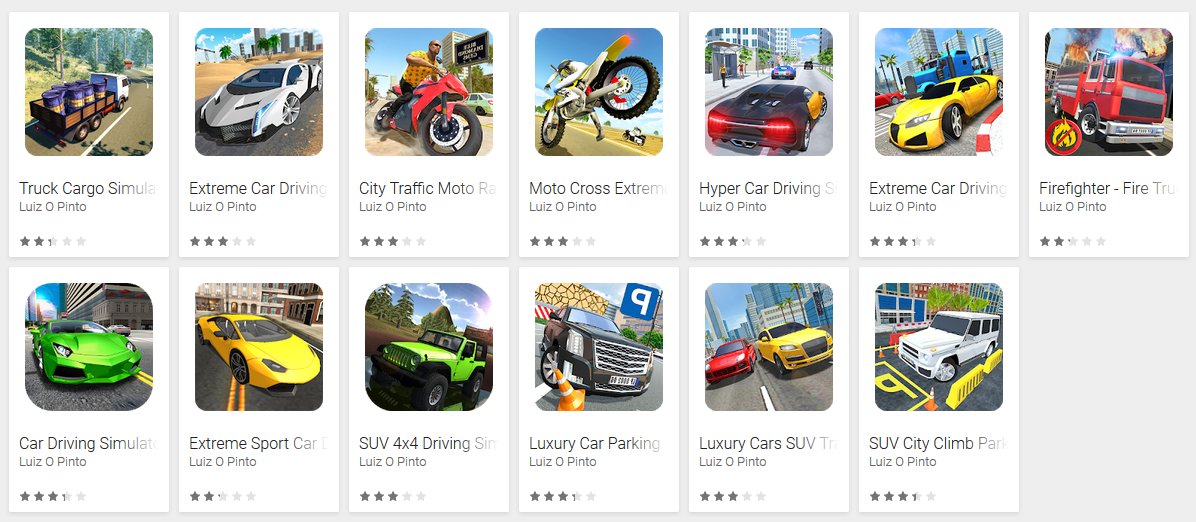 Image source: https://pbs.twimg.com/media/DsXjVC7XoAIdc8P.jpg
ESET security researcher Lukas Stefanko first uncovered the fake simulator app scheme on November 19. He took to Twitter to warn everyone about the 13 luxury car simulator apps containing malware. The apps accumulated over 560,000 downloads on Google Play Store, two of them even appeared on the Trending tab. This set of malware apps include truck cargo, motocross, firetruck, and luxury car simulators that have recently become popular.
And just like any other malware-carrying apps, these simulator apps implant adware based scripts into your smartphone. Some of these apps don't even show up on the app drawer right after downloading. Ads would randomly appear on the lock screen, while some users reported that the apps slowed their devices significantly. One user even wrote on a review that "the app tries to update via unknown sources. Most likely very unsafe." 
After Stefanko reported these apps, Google Play Store promptly removed them from their platform. Talking to Forbes, Stefanko expressed his concerns about how Google screen their apps. "Many times it would be simply enough to scan apps with antivirus software before uploading them on to Google Play," Stefanko said. He believes Google should definitely do better in protecting users against these types of ads.
Getting Rid of These Fraudulent Apps
Sadly, these types of apps still get through app markets like Google Play Store and App Store. The best thing us users could do is be vigilant about the apps we download. If you downloaded any of the apps pictured above, delete them already! It's also best to download apps from trusted developers only. You probably don't need various simulator apps just to feel good about yourself, do you? You can also download trusted anti-virus apps to clean your smartphone of unwanted files.
Despite this blunder, Google Play Store remains to be the safest source of apps for the Android ecosystem. It's still not advisable to download apps from untrusted sources, especially from unprotected HTTP websites. Be smart about your app management to avoid infecting your phone with various strains of malware. You don't want to ruin your expensive Android devices, do you?